At Kosmos Scientific de Mexico we work hard to make our virtual store a highly secure shopping environment, so you can order with confidence.
The secure order process
Every purchase at kosmos.com.mx is secure. When you click the Checkout button on the Shopping Cart the security features get activated automatically in your browse. Only then we'll ask you to enter your billing and shipping information (including your credit card's data, if you wish to use any).
The encryption features of your browser ensure the security of this data as it is transmitted to our server. Our site makes use of the Secure Sockets Layer (SSL) protocol and 256-bit strong encryption to provide the highest level of security available.
Most Web browsers use visual symbols to let you know when they are in secure mode, as shown: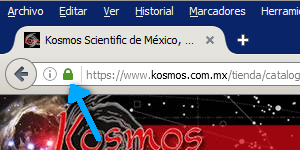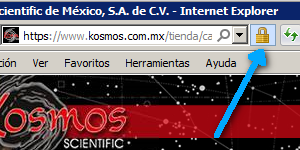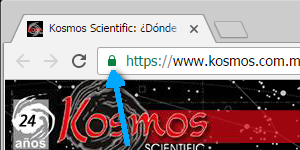 If you entered your credit card information when ordering, we remove it from our database when your purchase has been approved (except the last four digits, for verification purposes).
If you have any questions, comments or concerns regarding the security of your purchase in our store,
please contact us
.